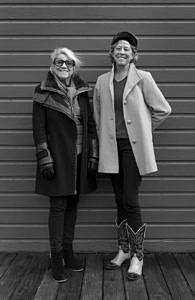 Jenny Pohlman - Sabrina Knowles
Sabrina Knowles' and Jenny Pohlman's collaboration spans two decades. As seekers, they have undertaken six international two-month journeys to developing nations absorbing religious beliefs, political histories, current affairs, architecture, social structure and people's personal stories. After lengthy incubation they morph their experiences into sculptural stories to share what they have learned about healing, self-empowerment, compassion, strength, grace, and the power of the human spirit. Their intention is to create works that speak of our common humanity.
Knowles' and Pohlman's work has been featured in exhibitions at the Museum of Northwest Art in La Connor, Edmunds Museum, Larsen Museum in Yakima, and the Pratt Gallery at the Center on Contemporary Art. Their work has been included in group exhibitions at Allentown Art Museum, PA; Bainbridge Island Museum of Art, WA; Bellevue Arts Museum, WA; Coos Art Museum, OR, Museum of American Glass, Millville, NJ; Museum of Glass, Tacoma, WA; Muskegon Museum of Art, MI; Racine Art Museum, WI; and Tacoma Art Museum.
Their work is in the collections of the Boca Raton Museum of Art, Mobile Museum of Art, Museum of American Glass, Museum of Glass, New Bedford Museum of Glass, Racine Art Museum and Tacoma Art Museum. Their work has been published in Glass, Metalsmith, New Glass Review and the Seattle Times, featured in and on the cover of American Style magazine, and published in several books on glass art.
Among their awards are Pratt Fine Arts Center's Service in the Arts Award 2011 and Service in Education award 2000; Saxe Fellowship award, Bay Area Glass Institute, San Jose, 2009; residencies at Museum of Glass, Tacoma 2014, 2007 and 2003; and residencies at Wheaton Arts and Cultural Center 2004 and 1999.
In 2000 Pohlman and Knowles established the Pohlman Knowles High School Scholarship at Pratt Fine Arts Center and continue to sponsor the scholarship annually. They serve as trustees for the Bellevue Arts Museum and support Pilchuck Glass School and Pratt Fine Arts Center through annual contributions. Pohlman is currently serving as a trustee for Pratt Fine Arts Center.
Untitled - Homage Series
Off-hand Sculpted Solid Glass Figures with Steel Patina Base - 26" H x 6" W x 5.5" D
Untitled - Carved Spears Series
Off-hand Sculpted Solid Glass Carved and Polished Steel Shaft, Beads, Copper 45" H X 5" W X 3" D
Untitled - Tapestry Series - SOLD
Off-hand blown, sculpted, and sandblasted glass, ferrous and non-ferrous metals, beads, natural materials 45"H x 28"W x 8"D