PIECE ART GALLERY (formerly Pismo Fine Art Glass, Vail, Colorado) presents the works of several generations of artists as well as craftsmen and craftswomen.
A focus on glass remains the primary interest and vision of the gallery. However, other mediums like ceramic and bronze are present.
The gallery includes works from US, Europe, Australia, additionally highlights local, Colorado artists and artisans.
Preview of new sculptures just arrived to the gallery. Click the image to view artist page.
Building an Archival Portrait Collection of the Contemporary Glass Movement
Within the Contemporary Glass Movement there is passionate support to capture the spirit and character of the unique quality of the people who enable and contributed to our community with a collection of portraits.
By photographing them using near life size images, their gestures and presence will be preserved on large format B&W film and high resolution digital files. 
Mary Van Cline has been known for her artwork combining photography and glass since 1978. Using her Hasselblad camera, she has traveled the world to capture images that envelop the human spirit. She now turns to portraiture to document the many people she has known and respected over the decades.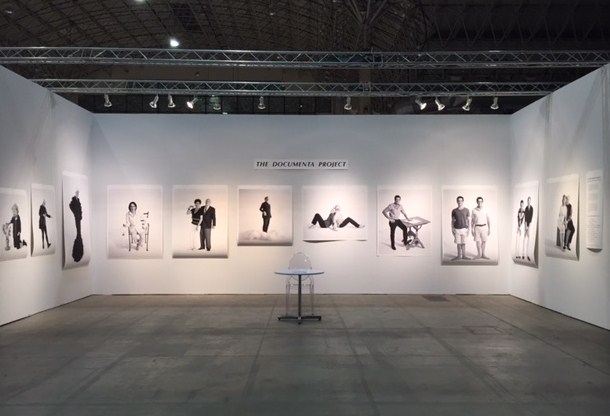 Ivory Leaf Inochi
Ivory pate de verre - 21"long x 7"wide x 7"high
Amazon and Turquoise Inochi
Turquoise and amazon green pate de verre - 30"long x 12"wide x 8"high
Turquoise and Amazon Green Inochi
Click link button to see Mary VanCline page

or Facebook link The documenta project
Introducing work of local artists
Colorado based artist, Natalie Ventimiglia Martin, explores her inner-world through aspiritual lens. Utilizing flame-worked and fused-glass techniques, Martincreates colorful, expressionistic, conceptually self-reflective compositions.Her glass artwork is both, whimsical and systematic; mirroring two worlds inopposition. According to Martin, freedom, and breaking boundaries is a constant pursuit. The artist states, "In my younger years I struggled with my identity, I felt pressure to conform, abide by a certain social structure, but I wanted to unapologetically chart my own path. Making art has always been my journey to freedom, a way of finding balance."
Martin received a Bachelor of Science degree in Biochemistry from Michigan StateUniversity in 1995. Her college education is directly linked to her interest in glass art-making. The technical side of her creative process is a constant trial and error endeavor; a chemical balancing act. "You have to consider what the glass wants to do, and work within those parameters to achieve a desirable result."
Martin has exhibited her work in notable art institutions such as the University of Berkeley in San Francisco, the Denver Botanical Gardens, and La Napoule Art Foundation. In addition, Martin has been commissioned by a myriad of corporate institutions such as the Corson Dental Group, Butler
Snow Law Firm, Children's Hospital, Rocky MountainHospital for Children, Mental Health of Denver, Exempla Good Samaritan Comprehensive Cancer Center, Lockheed Martin, and Sonny's Rocks Fine Jewelry Store.
Her work was selected "Best of Santa Fe" for the Santa Fe Arts District in Denver, Colorado. Also, her work was featured in 5280 Magazine, Glass Craftsman Magazine, and the System 96 catalog. NatalieMartin is currently represented by Piece Art Gallery and Element fine art gallery both in Colorado.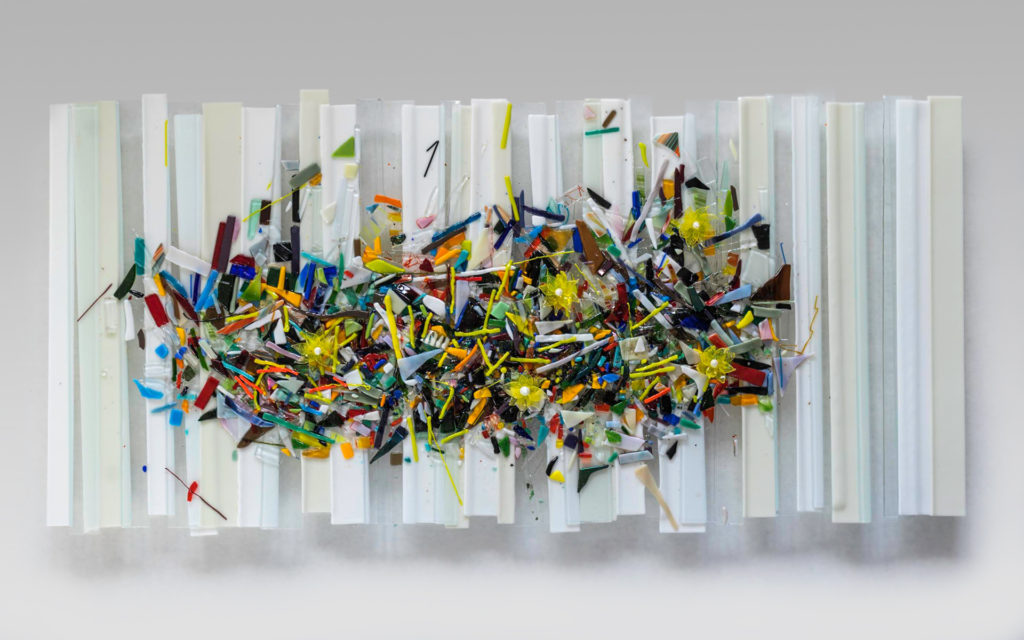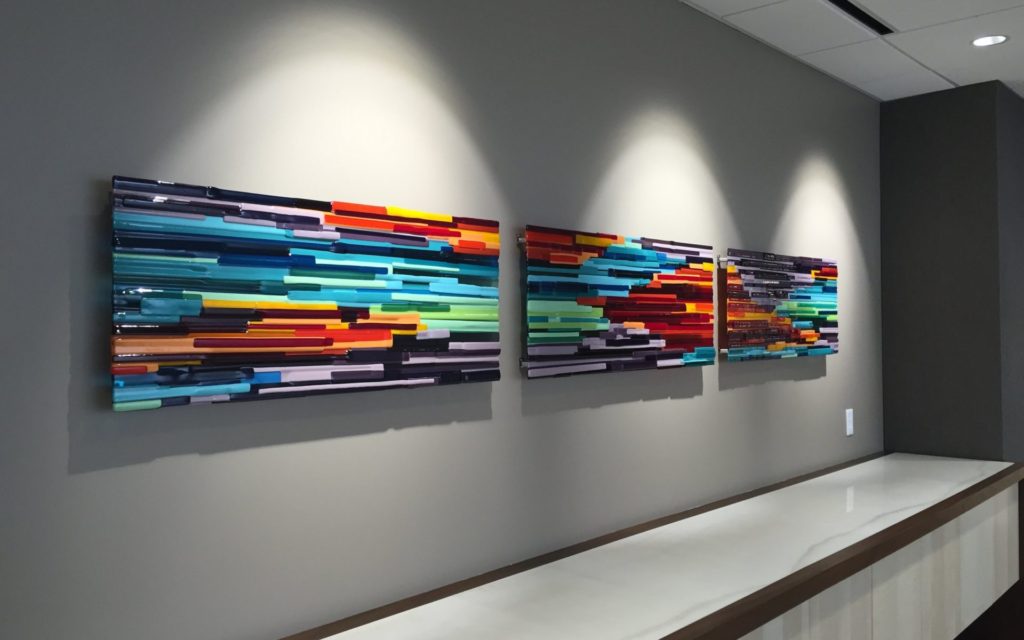 Custom Wall Installation - fused glass​
Custom Wall Installation - fused glass
Love and Light - fused and flame worked glass 21" x 21" x 5"
Divinely Guided - fused and flame worked glass 20" x 16" x 6"