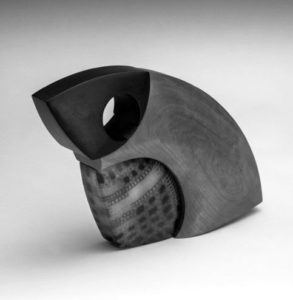 Born in Fairbanks, Alaska in the 1970's, Robert La Montagne spent the short bright summers and long dark winters of his childhood taking wilderness trips, gardening, building the family home with recycled materials, and living a creative life.
At 19 he left Alaska to travel Asia, sparking a lifelong passion.
 Over the years La Montagne left behind many of the winters to travel the world on his bicycle, always returning to explore the mountains and rivers of his home on skis, by canoe, or dog team.
 After studying fine arts at the University of Alaska (UAF), La Montagne started a residential building business in Fairbanks. He began by teaching himself to build small log cabins. Over the last 20 years he has expanded this practice to designing and building larger, modern and efficient homes.
 In 2009 La Montagne learned to blow glass at the Penland School of Crafts. He discovered the Italian process of murine and began creating forms with these intricate patterns. La Montagne combined glass sculptures with a style of woodcarving that he learned while studying Native arts at UAF. His first works were direct references to Alaskan Native culture, representations of ceremonial masks that portrayed creation myths through bird forms. Current works combine this visual language with his life experience, transforming these sculptures into a personal reflection of life in northern latitudes.
Together
Blown Glass and Wood 15"H x 9"W x 4"D
Hidden Fortunes - SOLD
Blown Glass and Wood
What Shall Be
Blown Glass and Wood
Dance - SOLD
Blown Glass and Wood 20"H x 12"W x 4"D