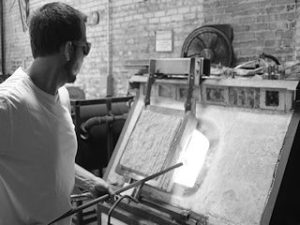 Brennan's current body of work, developed over the past decade, combines two of his most driving passions: mountains and glass.
Brennan was introduced to glass art at a young age at the Toledo Museum of Art and it was in the flatlands of Toledo, Ohio, where Brennan developed a fascination for mountains. Family trips introduced him to mountains and snow, and his obsession with snowboarding.
Light plays a significant role in glass, as in snowboarding, which Brennan has incorporated in these works. Shine a light from behind and you may notice a change in your view of the snowboards due to the layers he created.
He creates different patterns, inspired by mountains, quilt patterns and geometric designs, using cut sheet glass. In removing the functionality of the snowboard by creating it in glass Brennan allows the snowboards to become his canvas, and the sculptural object acts as a vessel for his voice rather than his body.
All I See is Lines
Fused and Coldworked Glass, 15"H x 60"L x 13"D
Dissolution
Fused and Coldworked Glass, 62"H x 26"W w x 24"D
Blue Sky
Fused and Coldworked Glass, 13"H x 58"L x 15"D
Gray Mountain
Blown Glass, 11"W x 10"H x 4"D
White Mountain
Blown Glass, 11"W x 10"H x 4"D
Black Mountain
Blown Glass, 11"W x 10"H x 4"D